What are Omneo Locations?
Locations are the physical and virtual identifiers Omneo uses to attribute customer interactions and transactions to their environment. For most use cases, Omneo Locations equate to all the physical stores where customers can interact with the brand and create transactions.
Locations help you understand your best customers, by adding the following information to individual profiles:
Joined Location

Preferred or Selected Location

Most Visited or Transacted Location
Location types can include Store (Physical), Online, Concession, Kiosks or Other.
At minimum, Locations must include a Name and ideally an Identifier that is used for that location by your POS or other systems. If a customer interacts or transacts at a Location with an unknown 'external ID' to Omneo, a placeholder Location will be created by Omneo that you can extend with more information later in Omneo CX Manager.
Using Locations within your Customer Experiences
When customers use Omneo Profile Portal to create or update their profile, the join and/or selected store attribute will show a list of all published Omneo Locations. If you've provided geolocation data (lat/long) in the Location definition, then the closest store to the customer's phone as detected by their current IP address will be pre-selected.
Whenever Omneo Clienteling is invoked by the POS or on a standalone device, the External Location ID is preset (or entered by the staff member) to ensure the experience is localised to that store and that all new customer profiles created are attributed to that store.
Omneo Location data can also be used to power other experiences like store finders, opening hours reminders, shipping calculators, and place feeds for third party systems like Google Places.
To manage Locations, navigate to the configuration tab in CX Manager and enter as much information as possible.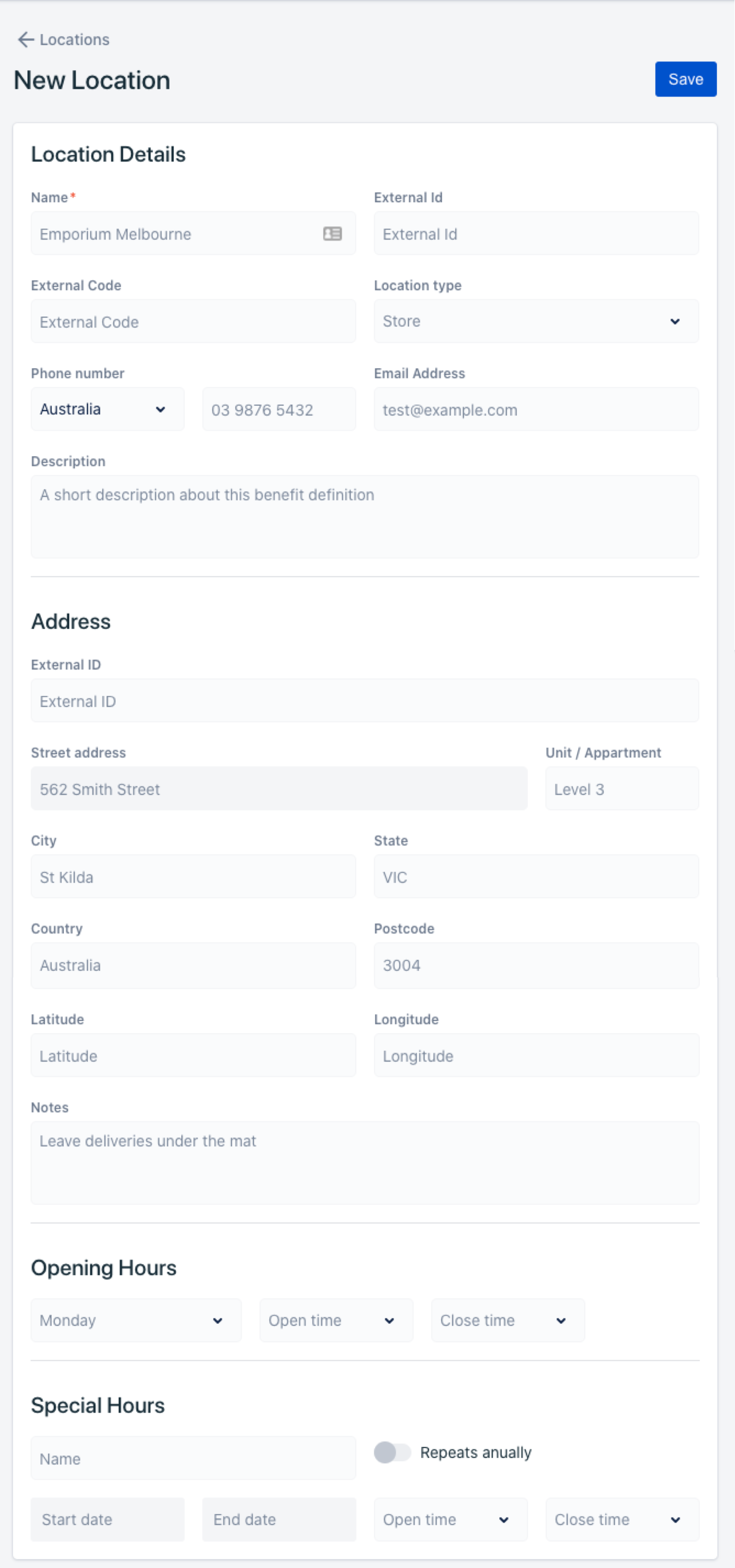 External IDs can only be added by direct integration from a location data source or when a placeholder location is created. Omneo does not allow editing External IDs in the CX Manager once the location has been created, this protects the integrity of third-party integrations.
Location IDs can be updated via a daily file upload or manually imported by a member of your Omneo implementation team to the backend.
A location can be updated to reflect its status depending on what you want to display to the customer. It is important to check these settings on creation and whenever there are location changes.
Location Status

is_published

is_permanently_
closed

Notes

Open + Customer Facing

1

0

Real store location that can be seen, visited and that customers can recognise. Selectable as a 'preferred' store and are available in store finders.

Open + Hidden

0

0

Virtual stores like online, warehouses, head office POS. Location can create sales but are not relevant to customers.

Closed + Hidden

0

1

Default for stores that were real (open and customer facing) but are now closed. Good for transaction history or JOIN history but can't be selected now or found in a store finder.
When should I configure a new Location?
When opening a new physical or virtual store

When introducing new technology into your sales workflow

When changing stores opening hours
Why Locations matter
Inform location-specific Incentives and experiences

Personalised Clienteling, Profile Portal, App and website/eCommerce experiences

Create more personalised and targeted promotional comms

Beautiful and informative e-receipts

Ensure stores get full attribution for the value generated by the customers they interact with