What is CX manager?
Your toolkit for configuring Customer Experience
Crafting a positive customer experience (CX) is straightforward when the customer and the people that serve them are empowered by data. Omneo CX manager serves as a centralised interface for integration teams and business users alike to configure, manage and monitor the Omneo Suite and how it relates to your broader CX and retail ecosystem.
When should I use CX Manager?
Configuring CX Incentives - Whether its rewards points, tiers, benefits or achievements, CX manager lets you update all your incentive and related communication content and logic as you need.

Deep Diving into Customer Data - While Omneo CX Manager is NOT a reporting or segmentation tool, it is the best place to see the consolidated details of individual customers. Take the time to look into your recent and best customers to understand their individual profile, transaction and interaction behaviour.

Your customer's view of products and locations - Omneo contains key information about products and store locations in order to power experiences like eReceipts, curation via product lists and Clienteling. Making sure your data is clean and clear.

Managing Integrations - From webhooks, targets, API tokens to workflows, Omneo has all your data "plumbing and rigging" options covered. Individual profiles display all related identifiers on connected systems so it's easy to create a single view of customers across all of your tools.
Why did we create CX Manager?

How do I access CX Manager?
CX Manager is available for all Omneo V3 customers. Ask us about access and a demo if you don't already have it. Looking for reports in Omneo?
Navigating CX Manager
Reporting Dashboard
Omneo Dashboard view leverages metabase to build custom reports & display metrics that matter at a glance.
Work with your implementation partner to discover & configure the metrics that work for you.
Profiles
Profiles are the collated home view for all customer data - here, you can view, search & add detail to customer profiles with a click of a button.
The Omneo CX engine creates profiles in real-time, meaning that as soon the data is captured it is surfaceable across multiple entry points (both In-store & Online). Within "Profiles" there are two key views:
List View
Live feed of recently joined members

Quick search between customer profiles

Contact info for fast communications
Detail View
Deep dive on customer metrics and aggregations as well as attributes and preferences

Add and update details that will update in realtime to all connected systems

Issue rewards and benefits on individual accounts
Interactions
With real-time read-only production data, the interactions tab allows implementers to test & verify tracking pixels, ensuring all relevant reporting data is flowing through as expected.
Transactions
The transactions tab offers a detailed view of how customers transact with your brand. Deep diving on a per-customer basis, you can see information like: Discounts applied, Payment type, Rewards redeemed & served by Staff information.
Incentives
An overview of all active incentives. Here, quickly see what rewards & benefits are active, how frequently they are being used, their value as well as creation & expiry dates.
Configuration
Configure all your CX incentives here: Rewards, Benefits, Points, Tiers and Achievements. As well as adding, removing or editing physical & virtual store locations. Here's also where validate & deep dive into the product data which is added to customer profiles & transaction history.
Settings
Settings are where in-house developers will spend most of their time managing integrations. See below for an overview of what can be managed here.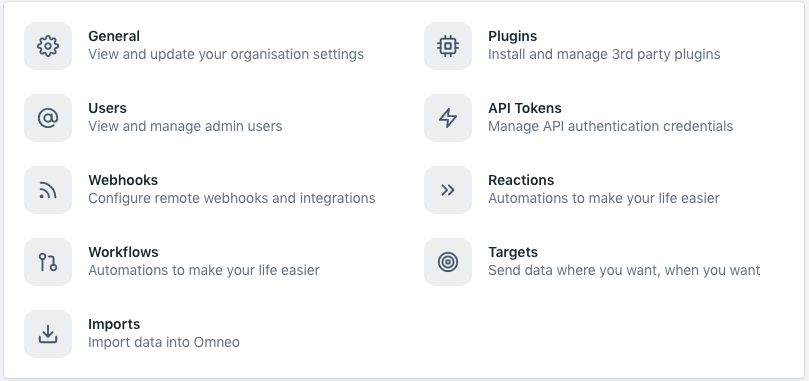 See the latest CX Manager Release notes here
To learn more, contact us today at hello@omneo.io