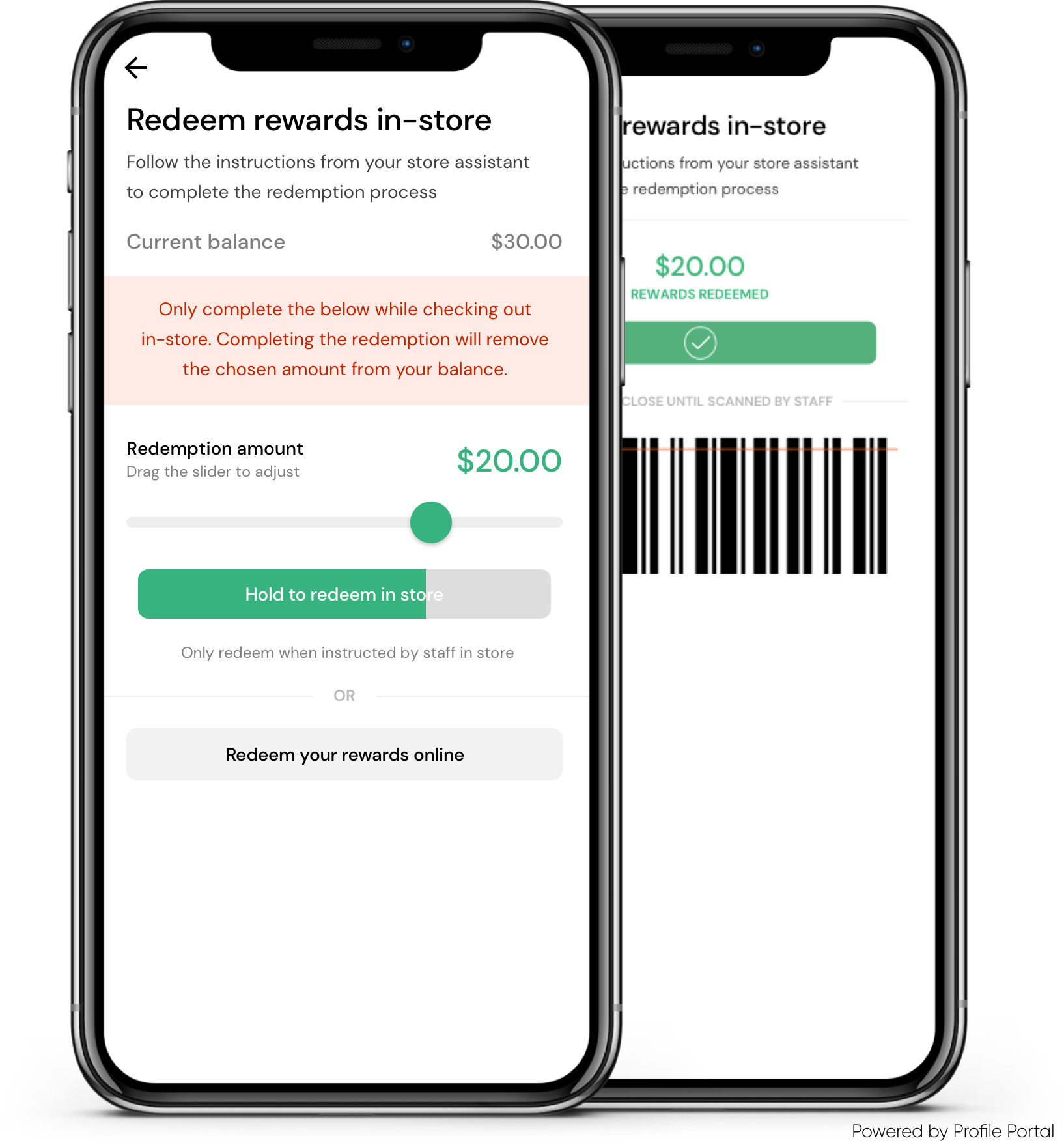 What are Codes?
Codes are an easy way for customers to redeem rewards and benefits in-store without the headache of a POS integration.
Powered by Profile Portal, brands can now leverage customer's phones to bridge the gap between online and in-store behaviour and combine the best of both for the ultimate shopping experience.
How do Codes work?
Codes work by giving customers access to their real-time reward balance, allowing them to customise the amount they'd like to redeem and receive a dollar off discount in-store.
Codes work with all POS platforms that:
Support scanning barcodes to attach a customer record to a sale

Allow pre-defined promotional rules to be activated by entering a code or barcode
To get started with Omneo Codes you'll need:
Omneo Complete Edition with Profile Portal configured for your brand

Omneo Incentivise with loyalty and incentive logic enabled

Omneo configured and integrated to your Profile, Transactions, Products and Location data sources
Why use Codes?
A legacy POS system can be challenging to customise and even more painful to replace, a considerable hurdle for brands that want to implement a membership program and build customer loyalty. That's why we created Codes - an easy way for customers to redeem rewards in-store without POS integration work.
Here are the most common use cases for Codes:
Replace printed cards and allow customers to easily identify themselves using the device that's familiar to them.

Perfect for brands that sell through MYER and David Jones and want to track sales using directly against their own customer records

Deliver a personalised shopping experience by employing Omneo's smartphone-based loyalty system to deliver tailored rewards and benefits to your best customers.

Use existing POS scan-off-screen methods to provide retailers with a quick, cost-effective and flexible way to manage shopper interactions and incentives with POS in real-time.

Omneo Profile Portal can handle secure, personalised incentive redemptions for individual customers only, while still being linked to simple blanket POS promotions that are easy to set up

Redemptions for both Benefits - that activate promotional rules, and Rewards - which behave as a dynamic dollar off discount, but feel like a payment type to the customer

Capacity to support different barcode formats such as liner code-128 and 2D types like QR codes. The code can contain any range of customer/reward details and even keystrokes, to automagically put the right info into your existing POS

Code can either be generic for each incentive type or unique (sequential, or set of code uploaded as a batch) per individual issue to a customer

View redemptions for every customer and store across your network to make faster decisions around promotions, stock and logistics.
Ready to kick off the Retail Resurgence? Get in touch at hello@omneo.io