What are Benefits?
A Benefit is a percentage off discount or free product, with an attached expiry date

Benefits can be earnt by doing (or not doing) a predetermined action or by moving between Tiers, Achievement levels or Status.'

The main difference between a Benefit and a Reward is that a Reward is a set dollar amount and can be collated and redeemed, and a Benefit is a stand-alone percentage off.

Benefits can be used more than once, for example, a Benefit might include three visits to a VIP lounge or a single free alteration, or unlimited access to 20% off knitwear until the Benefit expires for that customer

Benefits must be assigned to an Omneo profile and cannot be applied generically

Benefits can operate in isolation from or in conjunction with other Omneo Incentives Elements.
How do Benefits work?
Benefits generally fall into three categories:
Product discount
Broad discounts such as 10% off full-price or specific category discounts such as 15% off denim.
Free Product
When this Benefit is applied, specified products are discounted by 100%. Other conditions may apply to achieve a "Gift with Purchase" or 'Buy X get Y' Benefits.
General Entitlement
Such as free alterations or early access to sale. Can be used in conjunction with tiers or operate independently.
The way the promotional rules for Benefits are configured in the POS or eCommerce system is independent of how a customer initially earns the Benefit. Once the Benefit is earnt, the promotional rule at the point of purchase will then become unlocked via the Omneo integration.
Read about how Benefits are applied to a transaction here.
Benefits can be created and configured in Omneo CX manager.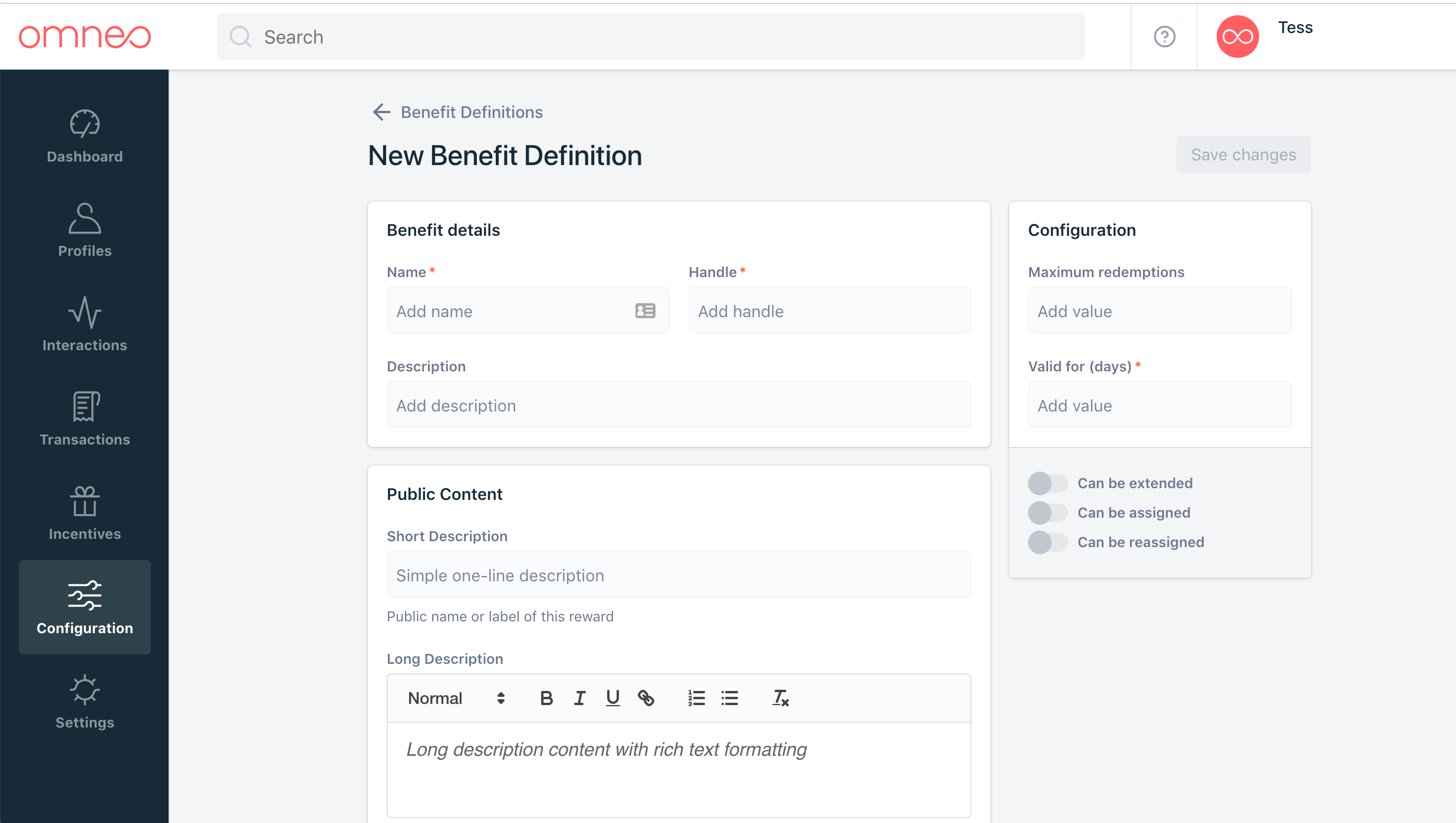 When can a customer receive a Benefit?
Benefits can be generated automatically based on a set of predetermined criteria, e.g. on this person's fifth shop give them 50% off or manually by staff with "manager" or "admin" status.
To redeem a benefit:
Redemptions must be open (The redemption end date must be in the future)

The benefit must be active (not expired)

The benefit has not reached its max redemption count

The benefit definition has not reached its max global redemption count
Read about Claiming a Benefit here.
Why use Benefits?
Benefits are designed to link the timing of the promotional incentive of the customers' actual behaviour (or lack of it) rather than your marketing calendar. Benefit should complement or supplement your public promotional campaigns as they're private and personalised.
Reasons/triggers to set up Benefits in Omneo:
Control which products or categories the Benefit is used on

Offer free or discount complimentary services

To reduce reliance on broad discounting strategies