As we continue the conversation about creating profiles with customers (get caught up here) we tend to continuously arrive at 2 fundamental considerations: The Philosophical "Should we be asking the question?" and The Functional "If yes, then how and when should we ask it?"
When it comes to the age question, we've got to assume you've done the philosophical "leg work", that is to say, you're clear on why knowing a customers age delivers value to their experience. Perhaps it:
Informs the product offering (e.g. Skincare, Health Insurance)

Changes your product photography to be more representative of a particular demographic (see sixty-nine.us)

Gives users specific accessibility capabilities

Triggers a birthday wishlist on your eCommerce website
Whatever it is, you've deemed age valuable and you're here to find out how to ask for it in a way that is respectful, informative and reliable. Well, you're in the right place. Below we explore the strengths and weakness' of three popular age question methods.
Date of Birth
(Day/Month/Year)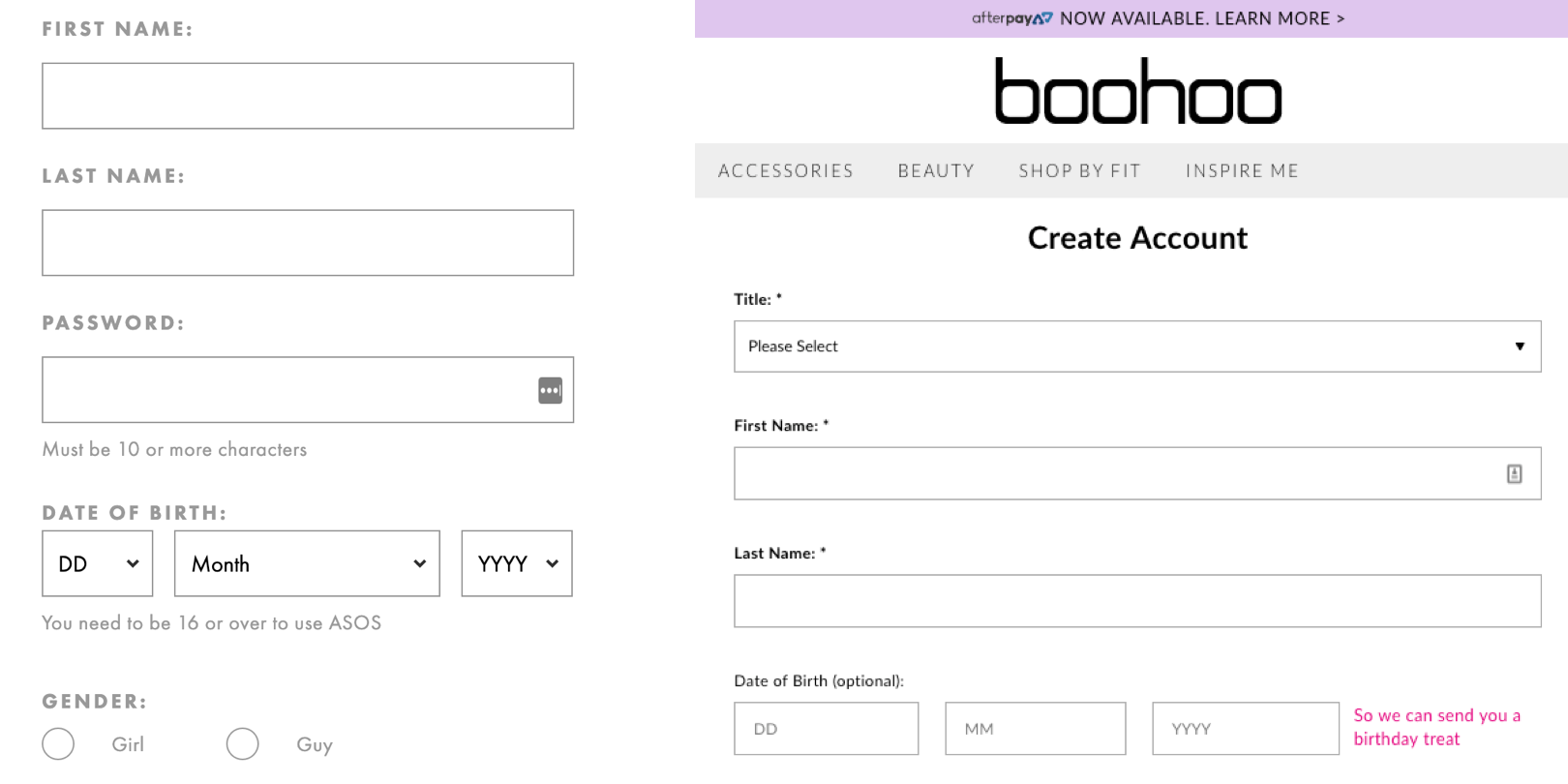 Data Longevity
Asking for day/month/year leaves nothing to interpret, it means you now have an evergreen fact about your customer - its a one and done deal, no need to update or change.
A willingness to share
This level of detail represents a customers vote of confidence in your brand and the ongoing relationship. Don't take this lightly. A survey by Blue Research found that almost 5% of users admitted to entering incomplete or incorrect data on registration forms. Making a case for an opt-out option as part of onboarding flows.
Fraud Risk
Birthdate is a crucial piece of information for identity theft - its important to provide an easily accessible privacy policy and to make sure your website security is up to scratch. Clearly state in your policy exactly who is collecting which types of data, how it's used and with whom you share it (if you intend to share it at all). Once you collect this data point, the table stakes are a little higher if you fall victim to a data breach.
Defensiveness
Onboarding should be about reducing friction and increasing ease. Customers have come to understand how advertisers use their age to inform algorithms and targeted content, inciting a level of defensiveness. We can learn from the public apologies Facebook issues for misuse of personal data. Tread lightly, incorporate information priming, gradual engagement, and the delivery of value into designs to assist with building trust.
If your online environment caters to international users, your data format should be clear and understandable. Here's a good place to start on avoiding bad date design practices.
Brackets
(

Age Bands/Brackets, Decades)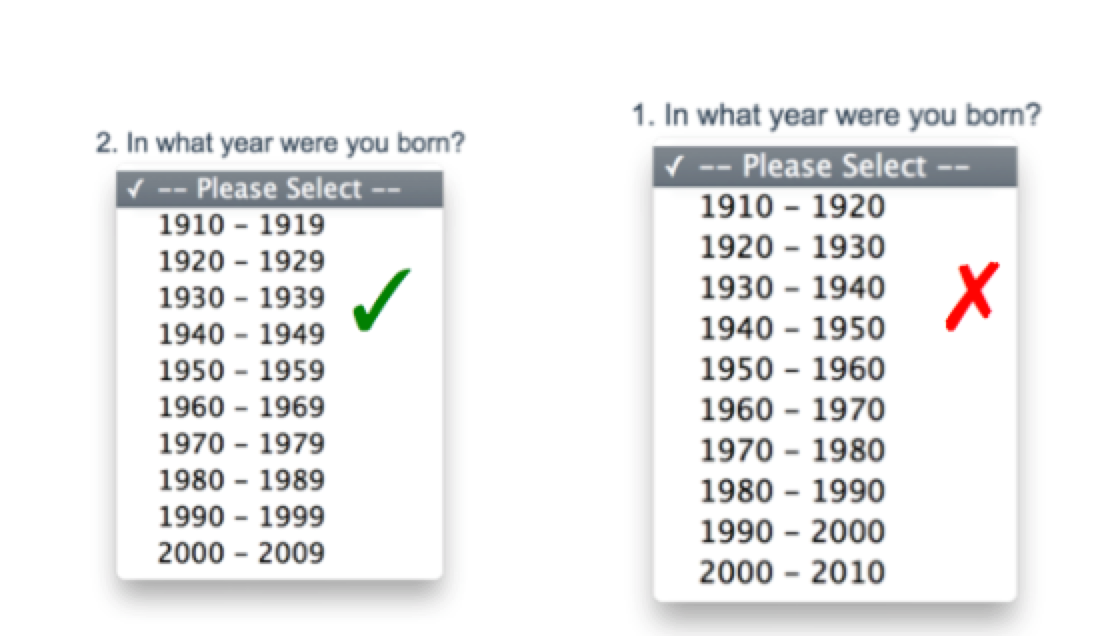 Fewer Clicks
Nobody likes filling out forms, the easier it is for a user to complete an action the more frictionless the experience. That said, there's no point reducing inputs if the design isn't intuitive, beware: the cross-over bracket! If a customer can fit into two categories concurrently you're inducing mental gymnastics, not ease.
Set & Forget
If you're going to use age bands, don't fall into the trap of asking for the age group (20 - 29 years) instead ask for decade born (1990 - 1999). The key is to find an approach that allows for data longevity, a customer can be out of an age category the day after being asked - decade born allows you to set and forget.
Birthday
(Day & Month, Month & Year)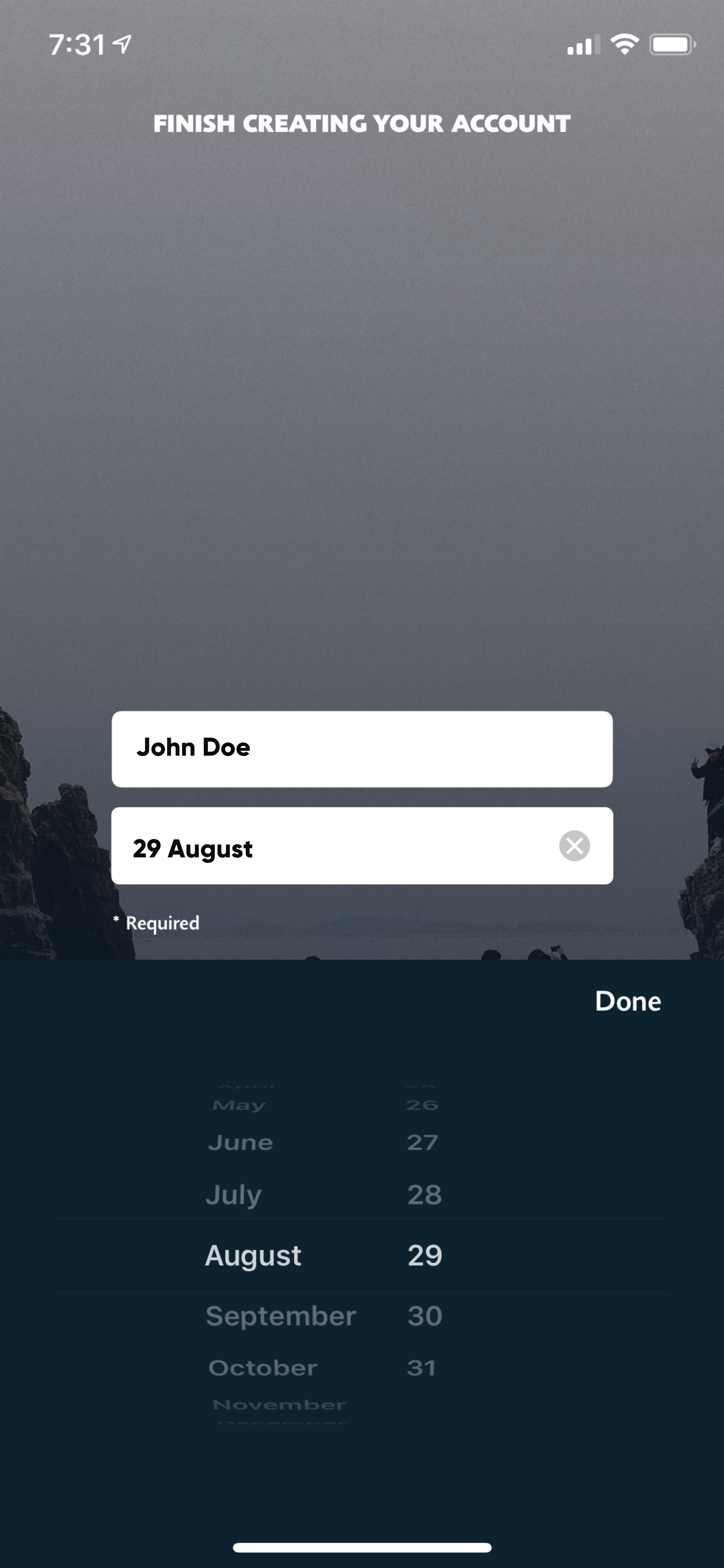 Keep it simple
Only asking for the information you need and know what to do with can often be the best approach. If you're looking to ensure a customer is over a certain age (month and year) or to issue a reward on your customers birthday (day and month), then just keep it simple. Remember you're laying the foundations for an ongoing relationship here, there's no need to overstep boundaries if you don't know why you're doing it.
On the flip side
There's merit to developing a 30,000 ft view in customer profiling and nobody likes being asked the same question twice. So, if you aren't delivering value on the whole kit and kaboodle yet but somethings in the pipeline let your customers know. They'll appreciate the transparency, you'll be setting them up for success to make informed decisions.
Age Checklist
| | |
| --- | --- |
| | Only ask for information you know what to do with |
| | Use information priming to help customers feel comfortable with every ask made |
| | Allow customers to opt-out if the information is not integral to your offering |
| | Only ask once. there's nothing more frustrating than being asked for information you've already provided. |
| | Deliver value. Make sure that your ask is accompanied by short, medium or long term delivery value. |
One last thing...
Be wary of inferring other information from age: Brands often make the mistake of using age to make assumptions about values, lifestyles and preferences. There's a myriad of ways customers can share this information: interviews, transaction and interaction history, customer satisfaction metrics, engagement information, the list goes on, but a customer's physical age is becoming less of a determining factor every year.