Designing Customer Onboarding for gender diversity & inclusion
As CX advocates, we understand that we can't campaign for a customer-first design approach whilst simultaneously remaining uneducated about what is, to some of our customers, the most pivotal of personal experiences - gender identity. That's why we set out to find out if and how brands should ask customers for their gender and what considerations should be made along the way.
In 2016, the Queensland University of Technology conducted The Australian sex survey - asking Australians how they identify with 33 different categorisations coming through in the results.
The below stats provide a sense of what gender diversity means different generations here in Australia:
20% of millennials currently identify as LGBTQ, compared to 7% of baby boomers and 12% of Gen Xers (

Glaad, 2017

)

56% of Gen Z said they knew someone who went by gender-neutral pronouns such as "they," or "ze," compared to 43% of millennials;

54% of millennials always bought clothes designed for their own gender, while that's true for only 44% of Gen Z teens;

70% of Gen Zs felt strongly that public spaces should provide access to gender-neutral bathrooms, compared to 57% of millennial 21–34-year-olds. (

UX Collective, 2017

)
With gender identity playing such an integral part in people lives, we researched and compiled a few key points for brands considering a more inclusive customer onboarding flow.
If you're going to ask for gender, you need to be able to articulate why: Unsurprisingly consumers have become fatigued providing data, with many companies tending to "over-ask" for demographic data. If it's not a crucial part of your customer offering, you may be able to eliminate the question altogether. If it is, make sure the benefit of providing this information is clearly articulated. Things like reflecting diverse identities in product photography is a good demonstration of value here, see this example.
Decided to ask about gender? Carefully consider how you ask the question:
Often biological sex and gender identity are conflated as one - its important to craft a question that allows respondents to answer honestly and comfortably. Examples outlined below.
Foster a safe, private and anonymous online environment:
Gender identity is a sensitive topic for many, and a non-issue for others, it's important that your customer onboarding flow recognises this. Reassuring users that their information will not be shared with anyone outside of the brand, even allowing them to manually curate who sees it.
Allow users to opt-out or enter their own categorisation:
Participants said that being able to select multiple identities, create their own categorisation or opt-out entirely of the question made them feel more comfortable answering questions about gender.
Consider asking for pronouns instead
: If the reason you're asking for gender is specific to customised content and communication, a nice alternative to help see and understand your audience is to ask for preferred pronouns she/her, they/them, he/him. A tactic employed by video hosting service
Vimeo
.
Trading internationally? Not everything translates:
 Gender identity means different things in different countries - if your eCommerce environments span multiple countries/markets, it's important to understand the specific requirements.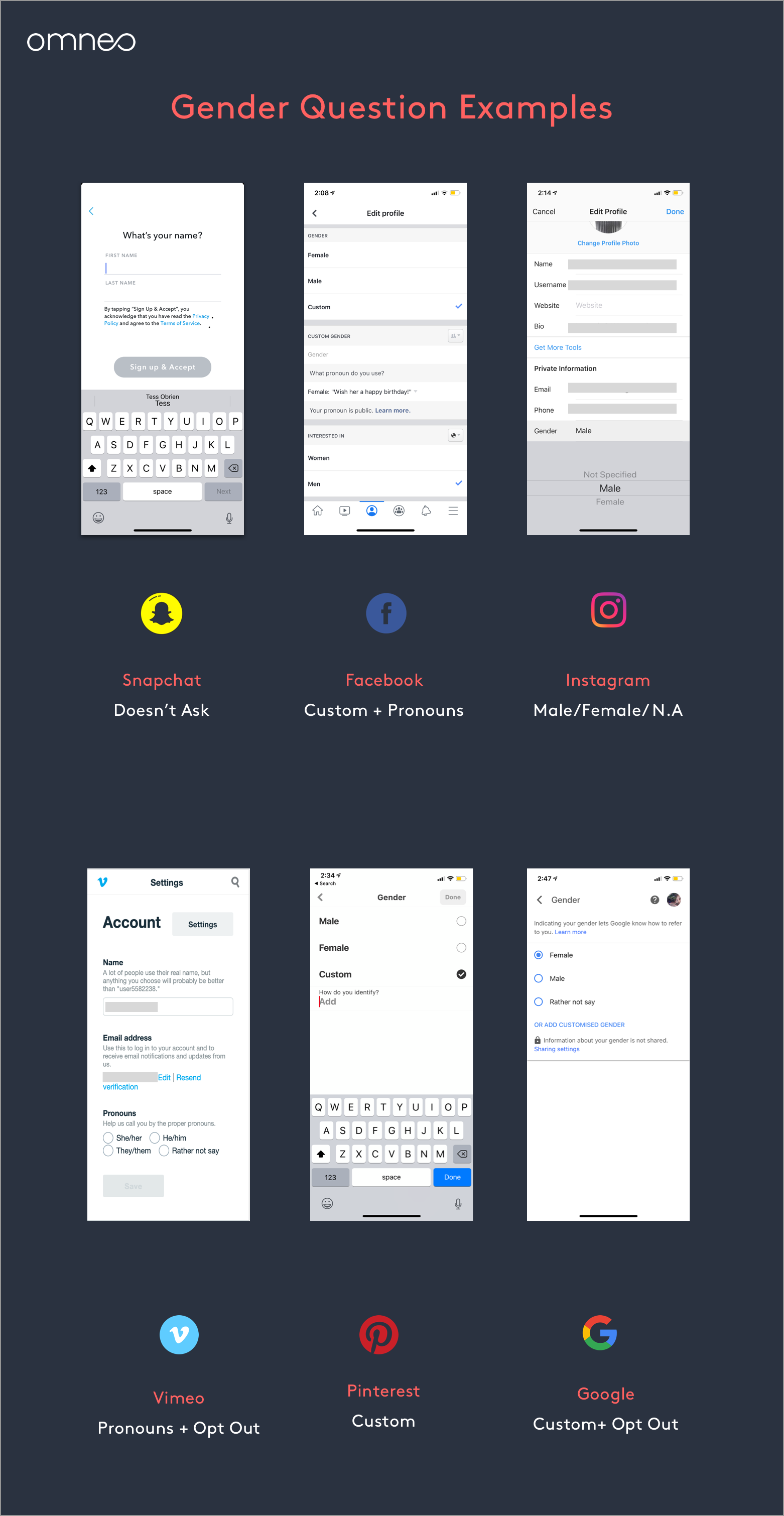 Getting started with updating your profile onboarding flow:
Determine the value asking the gender question has for you and your customer

Update your profile onboarding (need help?

Omneo Shapes

have you covered)  

Update your direct marketing pronouns to be dynamic

Audit and update your security guidelines as needed
Need help getting started? Get in touch! 
Additional Reading: 
https://www.retaildive.com/news/an-inclusive-customer-experience-for-non-binary-people-is-necessary/558190/
https://www.surveygizmo.com/resources/blog/how-to-write-survey-gender-questions/

https://www.surveymonkey.com/curiosity/ask-survey-questions-sexual-orientation-gender-identity/
https://www.forbes.com/sites/annajohansson/2017/12/29/how-young-consumers-and-employees-are-driving-gender-inclusivity/#7efe71302416